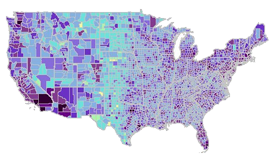 "The MLA Language Map is intended for use by students, teachers, and anyone interested in learning about the linguistic and cultural composition of the United States. The MLA Language Map uses data from the 2000 United States census to display the locations and numbers of speakers of thirty languages and three groups of less commonly spoken languages in the United States."
This map, and the chart below it, would be great for helping students "to understand and respect diversity of dialects" and languages. It's interactive and visual, so students will want to play with it, leading to authentic discoveries about language.
Now all I have to do is figure out how to fit the activity of viewing this map into a lesson where viewing will help meet the learning objective.